New statements and letters
Since the last edition of Quaker Concern CFSC has released the following statements and open letters:
Recent criminal justice research
CFSC has created short visual summaries of recent reports explaining what's wrong with mother-child units in Canada's prisons (https://QuakerService.ca/MotherChildUnits) and estimating that there are 405,373 children with a parent in custody in Canada. A new 35 minute documentary—Bonds That Hurt Bonds That Heal—shows the life-long impacts when a parent is incarcerated. The film can be streamed for free on our website: https://QuakerService.ca/BondsThatHurtBondsThatHeal
Invest in communities, not war
Canada has announced plans to buy 88 new Lockheed Martin F-35 stealth fighters for $19 billion (with a lifecycle cost of $77 billion). This plane is designed for first strike attacks and can carry a nuclear bomb. A new Parliamentary e-petition calls for Canada to cancel this deal. Sign the petition: https://QuakerService.ca/NoFighterJetsPetition. Find out more from the No Fighter Jets campaign, endorsed by CFSC: https://NoFighterJets.ca
Short videos explore Indigenous rights and sustainability
What does sustainability mean to you? Advice for living our responsibilities is a new series of inspiring videos produced by Katsi'tsakwas Ellen Gabriel for the Coalition for the Human Rights of Indigenous Peoples (of which CFSC is an active member). The brief videos feature Indigenous experts answering questions and telling stories to explain their understandings of sustainability. Learn more: https://QuakerService.ca/SustainabilityVideos
Common values, hidden truth posts for Psychology Today
In his ongoing blog for Psychology Today Matt Legge shares exciting and practical research on common human values: https://QuakerService.ca/OneEasyChangeInPerspective and considers the impacts of the surprisingly common idea that "my side knows a hidden truth": https://QuakerService.ca/HiddenTruth
Annual Accountability Report
Our Annual Accountability Report came out in December. It highlights the great many things that CFSC was able to accomplish in 2022 thanks to our donors, volunteers, and staff. Have a look: https://Report.QuakerService.ca
Giving Thanks for the Spirit in the Life of Meredith Egan
By Vince Zelazny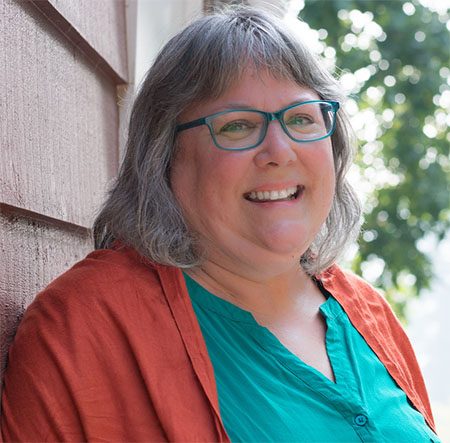 On December 29th, 2022, Meredith Egan, former coordinator for CFSC's criminal justice work, passed away. CFSC extends our condolences to her children Nat, Petra, Brigid, and Grace, as well as daughter-in-law Maggie, son-in-law Corey, and granddaughter Pippa.
Meredith lived by the belief that individuals have the power to foster healing. That faith guided so much of her work with CFSC, and later, as a novelist, and through "Wild Goat Coaching," her executive coaching business.
Meredith was instrumental in bringing about the Canadian Yearly Meeting minute "Justice is Possible" in 2010 (https://QuakerService.ca/JusticeIsPossible). Friends may also remember her approach to tactile justice education tools—magnet sets and stone rubbing materials.
Hundreds of incarcerated men, children living in group homes, school children, and persons living in pervasive violence were gifted a portion of her loving faith and hopefulness through anti-violence education circles that she facilitated across Canada.
Meredith also ministered to crime victims. Memorably, she hosted Friends in Fredericton, New Brunswick in remembrance and healing in the aftermath of tragic events in October 2008, when they lost Dr. John McKendy, founder of Alternatives to Violence at Dorchester Institution, who was killed in an act of domestic violence.
As part of a joint project between CFSC and Toronto Monthly Meeting, I went with Monica and Jeffrey Walters-Field and Meredith to Portland, Jamaica, in 2008. We worked to establish a Peace Club for students at Happy Grove School, an historic Quaker school that had been beset by violence. A similar effort worked to plant seeds of peace in partnership with the North Point Douglas women's centre in Winnipeg.
We give thanks for the grace of God as witnessed in the life of Meredith.
Vince Zelazny, New Brunswick Meeting, is the Clerk of CFSC.