This is a special moment because we're taking your concerns directly to decision makers in a much bigger way. For the first time in our more than 90 year history, we've expanded to have a Government Relations Representative, based in Ottawa!
Your voice, grounded in our Quaker faith, will reach decision makers more than ever before. We'll keep doing grassroots peace and justice work, but now we're also expanding into having a deeper policy influence.
Our new Government Relations Representative Sandra Wiens has been working in the nonprofit sector since 2005, focused on gender equity and health policy advocacy. She has worked with various organizations in South America, Canada, and Australia.
Sandra studied International Development and Conflict Resolution Studies at the University of Winnipeg, and feels drawn to how the work of CFSC combines these two streams of study in a practical way. This is her second time working with CFSC, having started her career in 2005 with the Quaker International Affairs Programme (QIAP). Watch CFSC board members explaining why this expansion of our work is so invigorating.
July saw CFSC's Indigenous rights team headed to Geneva. Supported by a grant, we were able to send Jennifer Preston, Jeremy Vander Hoek, and Rachel Singleton-Polster to the UN Expert Mechanism on the Rights of Indigenous Peoples (EMRIP). Our team had a lot going on while in Geneva.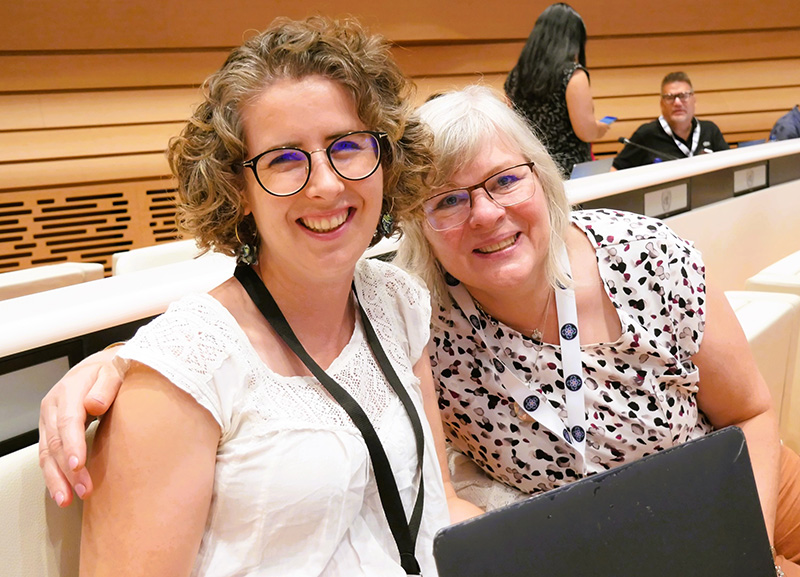 Rachel and Jenn at EMRIP. Credit: Ellen Gabriel.
Our work with the Coalition on the Human Rights of Indigenous Peoples included three statements from the floor (see all three statements) and a side event on monitoring the implementation of the UN Declaration. We supported our partner Professor Sheryl Lightfoot in her role as the Chair of EMRIP. We hosted the annual EMRIP dinner at Quaker House Geneva. And Jennifer attended breakfast with the Canadian Ambassador.
This is the 100th anniversary of Cayuga chief Deskaheh Levi General traveling to Geneva with an appeal to speak at the League of Nations (the precursor to the UN). There were many events to commemorate this critical beginning of the journey to have Indigenous peoples working inside the international system to protect their rights. We were honoured to be a part of this history.
As a CBC article notes, "Today, the Haudenosaunee Confederacy is still unable to address the United Nations as a government. The confederacy, along with other Indigenous nations, is only eligible to address the UN as a non-governmental organization."